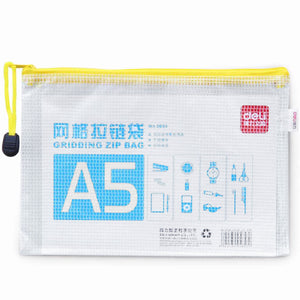 Mesh Pouch (A5)
SKU:
39775
ZIPPER BAG
Model no: 5656
Brand: DELI 
ALU: 6921734956569
Size: A5
Color: ASST
Deli – Mesh Pouch
Brand: Deli
Model: No: 5656
Color: Assorted Color
Size: A5
Material: PVC Mesh
Product Dimension: 240 X 170MM
Features:
It can keep document clean and dry.
Suitable for document, examination paper, files and other A5 paper.
Made of waterproof and oil-proof see through vinyl with mesh webbing to create a strong and functional kit bag. Oil and liquids won't leak through.
Wide range of uses: can hold like books, pens, cables, cell phones, pill bottles, travel accessories, tools, cosmetics, or other supplies.
We Also Recommend