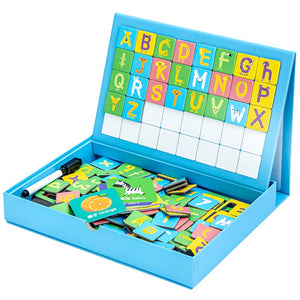 Educational Toy
SKU:
48157
MAGNETIC PUZZLE   
Model no: 74550
Brand: DELI
ALU: 6921734919311
Color: ASST
Deli – Educational Toy
Magnetic Puzzle
Brand: Deli
Model: No: 74550
Color: Assorted Color
Suitable for: 3+ Year old kids
Material: Coated paper cardboard
Dimension (W x D x H): 278 x 207 x 40mm
Features:
Educational aids.
Helps to concentrate.
Includes marker to write.
Double-sided multi-function.
100% safe materials, ensuring absolute safety for children when playing.
The letters, numbers and images are colorful, rich and very eye-catching for young children.
The details are designed without burrs, the sharp edges are rounded, ensuring safety for children when using.
The product has a thickness of up to 2mm to ensure safety and suitable for childrens hands, giving children a comfortable feeling every time they play.
We Also Recommend