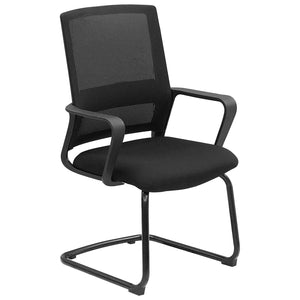 Visitor Chair
SKU:
47709
MESH 
Model no: 87091
Brand: DELI
ALU: 21881
Color: BLACK
Deli – Visitor Chair
Brand: Deli
Model: 87091
Color: Black
Material (Backrest & Seat): Mesh
Material (Leg): Metal
Features:
Comfortable Seating & Backrest.
Durable metal frame for strength and reliable performance.
This guest chairs is available with a breathable black mesh backrest and padded black mesh seat, and can blend in to any work environment.
This mesh chair is multi-purpose, and can serve well as break room chair, office waiting room chair, training or conference room chair, or guest chair for a private office.
Dimension
Width x Depth x Height
Overall:
Centimeter (cm): W 59 x D 58 x H 95.5cm
Inch ("): W 23.2" x D 22.8" x H 37.6"
Feet (') Inch ("): W 1'11" x D 1'11" x H 3'2"
Seat:
Centimeter (cm): W 47 x D 48 x H 45cm
Inch ("): W 18.5" x D 18.9" x H 17.7"
Backrest Height: 56cm (22")
We Also Recommend