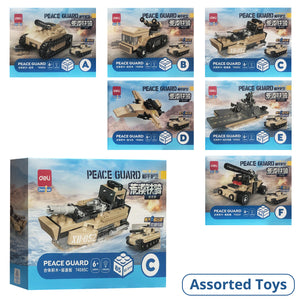 Educational Toy
SKU:
52918
PEACE GUARD 
Model no: 74585
Brand: DELI
ALU: 6974776209308
Color: BROWN
Be note: Not selling as a whole set.
Deli – Educational Toy
Peace Guard
Brand: Deli
Model: No: 74585
Color: Brown
Suitable for: over 6 years old
Material: ABS Plastic
Features:
Fun and educational.
Parent-child interaction.
Enhance hands-on skills.
Instruction manual is included.
Each block is made of ABS material, which is table and safe to use.
Building blocks to assembly to increase children's spatial imagination.
Note: We have an assortment of 6 toy designs, and if you have toy preference, you can send us a message or visit our shop for more details.
Click here for - Contact Details
We Also Recommend