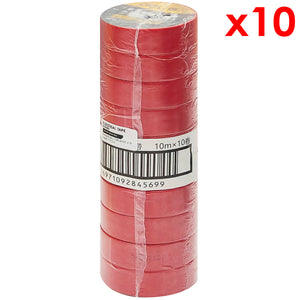 Insulating Tape (10 PCs)
SKU:
46991
PVC 18MM X 10M
Model no: DL5262
Brand: DELI TOOLS
ALU: 16971092845699
Color: RED

Deli Tools – Insulation Tape
PVC Electrical Insulation Tape (10 Pieces)
Brand: Deli Tools
Model: DL5262
Color: Red
Voltage Rating: Below 600V
Temperature Grade: 0-80°C
Material: PVC Plastic
Size:
Overall Diameter: Ø60mm
Width: 18mm
Length: 10m
Thickness: 0.13mm
Features:
Solid and Durable.
RoHs certification.
Lead-free, environmentally friendly, healthy and safe.
It has good insulation performance and strong electrical resistance.
Insulation Tape for variety of resistance components below 600V.
The product is flame-retardant, moisture-proof, wear-resistant, acid and alkali resistant, and has good formability
The product is made of environmentally friendly PVC material, which is tough, not easy to age, and has a wide range of uses.
We Also Recommend