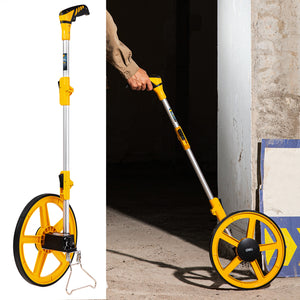 Measuring Wheel
SKU:
52755
DISTANCE 
Model no: DL330112
Brand: DELI TOOLS
ALU: 6974173015502
Color: YELLOW
Size: 12.5INCH

Deli Tools – Measuring Wheel
Distance Measuring Wheel
Brand: Deli Tools
Model: DL330112
Color: Black/Yellow
Wheel Diameter: 318mm (12.5")
Display Resolution: 0.1m
Measuring range: 0 – 9999.9m
Measurement accuracy: ±0.5%
Material: ABS Plastic + Aluminum
Features:
Foldable design for easy carry and storage.
Non-slip wheel for different measuring conditions.
Easily and accurately measure up to 9999.9m with quick reset latch.
Distance measure is sufficient for various indoor and outdoor projects, rolling measuring wheel is ideal for real estate appraisers, law enforcement, construction, or landscaping workers, and homeowners alike.
We Also Recommend