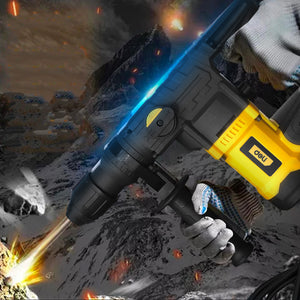 Rotary Hammer (3-in-1)
SKU:
52777
1050W ELECTRIC  
Model no: DL-DC28-E1
Brand: DELI TOOLS
ALU: 6975102945723
Color: BLACK/YELLOW

Deli Tools – Rotary Hammer
Wired Electric
Brand: Deli Tools
Model: DL-DC28-E1
Color: Black/Yellow
Rated Power: 1050W
No-load Speed: 900r/min.
Impact Frequency: 4300bpm
Rated Voltage: 220V-240V~
Min. - Max. Chuck: 6 - 28mm
Forward/Reverse Function: No
3-in-1 Functions:
Hammer Only
Rotary Hammer (Hammering with Rotation)
Chisel position adjust
Features:
1050W Power.
Multi-purpose in one machine.
Step-less variable speed switch.
With 360° auxiliary rotatable handle.
Heavy duty construction rotary hammer is suitable for professional or daily home users.
Quick heat exhaust outlet for protecting motor form burnt due to excessive temperature.
Easy to Operate: Rotating dial to set the tool to 3 specific modes of operation for "hammering with rotation", "hammer only" and "chisel position adjustment" adapt to variety of work scenarios which are easy to switch.
Packing Contents:
Tool Box – x1
Rotary Hammer – x1
Lubricant – x1
Drill Bit (Ø8mm) – X1
Drill Bit (Ø10mm) – X1
Drill Bit (Ø12mm) – X1
Hammer Chisel – X1
Sturdy Point Chisel – X1
Carbon Brushes – x2
Wrench – x1
User Manual – x1
Warranty: 6 Months Warranty
We Also Recommend