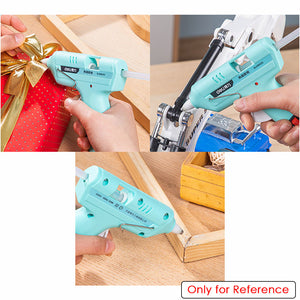 Glue Gun
SKU:
48178
HOT MELT (20W) 
Model no: DL390220
Brand: DELI TOOLS
ALU: 6971092849492
Color: ASST
Deli Tools – Glue Gun
Hot Melt (Colorful)
Brand: Deli Tools
Model: DL390220
Color: Assorted Color
Rated Power: 20W
Cord Length: 1.5m
Glue Stick Diameter: Ø 7mm
Material: Hard Plastic
Product Size: 11.7 x 11.5cm
Features:
Filter tip + drip-proof design.
3C certification safety line, safe and reliable.
Aluminum alloy outlet, durable and anti-rust.
Ceramic heating chip, constant temperature sol.
Smooth dispensing, uniform dispensing, stable sol.
Anti-dumping bracket design, safe and convenient.
Independent switch design, energy saving and power saving.
Ideal for rapid home repairs, holiday decorations, unique gift packaging, creative arts, DIY projects, handmade crafts, etc.
We Also Recommend