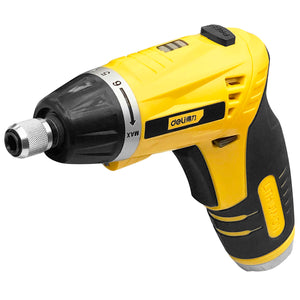 Electric Drill
SKU:
46927
3.6V CORDLESS DRILL W/ SCREW DRIVER
Model no: DL4
Brand: DELI TOOLS
ALU: 6971092847382
Color: BLACK/YELLOW

Deli Tools – Drill
3.6V Cordless Drill
Brand: Deli Tools
Model: DL4
Color: Yellow/Black
Battery Capacity: 1.5Ah
Voltage: 3.6V DC
Rated Speed: 200r/min
Max. Torque: 3.5NM
Tool Box Dimension (W x D x H): 23 x 6.5 x 20.5cm (9.1" x 2.6" x 8.1")
Features:
LED Light.
Accessories Included.
Includes Tool storage box with kits.
180° Rotation 2 Modes: Gun type use and straight vertical use.
The cordless screwdriver with clockwise/anti-clockwise rotation has 6 torque steps, one drilling level and one LED work light, Furthermore, and the device can be used as a torch.
Warranty: 6 Months Warranty 
We Also Recommend