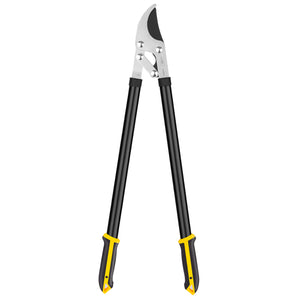 Lopper (30.5")
SKU:
52754
CARBON STEEL 
Model no: DL580321
Brand: DELI TOOLS
ALU: 6974173012082
Size: 30.5INCH
Color: BLACK/YELLOW

Deli Tools – Lopper
Brand: Deli Tools
Model: DL580321
Color: Black/Yellow
Overall Length: 780mm (30.8")
Max. Cutting Diameter: Ø30mm
Material: 55 Carbon Steel + PP + TPR
Features:
Sharp Cutting.
Teflon Coating.
PP + TPR coated handle.
Useful for garden pruning.
Four-point lever structure.
Non-slip, durable, and comfortable grip.
High quality carbon steel blade with overall heat-treatment for sharp cutting.
We Also Recommend