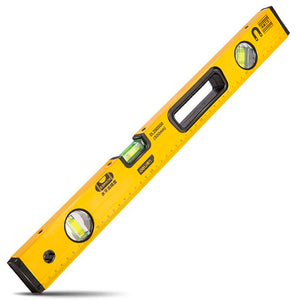 Spirit Level (50cm)
SKU:
48304
ALUMINUM ALLOY 
Model no: DL290500
Brand: DELI TOOLS
ALU: 6973107487033
Color: YELLOW
Size: 50CM

Deli Tools – Spirit Level
Brand: Deli Tools
Model: DL290500
Color: Yellow
Overall Length: 50cm (19.7")
Accuracy: 0.5mm/m
Material: Aluminum Alloy
Dimension (W x D x H): 50 x 2.5 x 5cm (19.7" x 0.4" x 2")
Features:
Leveling bubble accuracy 0.05mm/m.
ABS Handle for convenient operation.
The thickened end cap can resist impact.
Horizontal, vertical and 45° angle measurement.
The ruler has a scale (up to 50cm) for easy marking and measurement.
Strong magnetic bottom, which is convenient for tools to measure on the surface of ferrous metal to improve efficiency and stability.
Suitable for multiple working conditions, door frame installation, tile laying, interior decoration and other scenes can be satisfied.
We Also Recommend