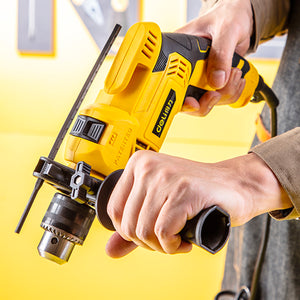 Electric Drill (2-in-1)
SKU:
48298
550W WIRED ELECTRIC 
Model no: DL6281
Brand: DELI TOOLS
ALU: 6971092845227
Color: BLACK/YELLOW

Deli Tools – Drill
Wired Electric Impact Drill
Brand: Deli Tools
Model: DL6281
Color: Black/Yellow
Rated Power: 550W
No-load Speed: 2800r/min.
Impact Frequency: 44880 times/min
Rated Voltage: 220V~
Rated Frequency: 50Hz
Forward/Reverse Function: Yes
2-in-1 Functions:
Hammer-Drill (for concrete or masonry)
Flat Drill (for wood, metal, tiles, plastic etc…)
Max. Drill Chuck: 13mm (1/2")
Max. Drilling Capacity:
Wood: Ø30mm
Steel: Ø13mm
Concrete: Ø13mm
Features:
Right / left Rotation.
Switch Lock Function.
Adjustable Speed Control.
Forward and Reverse Function.
Three-Chuck Clamping with Key.
Flat Drill mode: Flat drill function, which can punch holes in metal, Wood, plastic, tiles etc...
Hammer-drill mode: It applies a percussive motion for drilling holes in concrete or masonry.
Accessories Includes: Replaceable Carbon Brush (x2), Depth Measurement (x1).
Warranty: 6 Months Warranty 
We Also Recommend