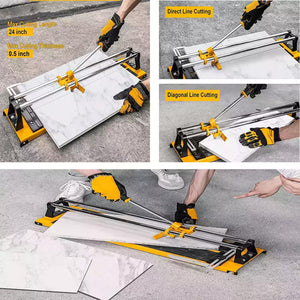 Tile Cutter (24")
SKU:
52793
MANUAL  
Model no: DL354060
Brand: DELI TOOLS
ALU: 6975495593846
Color: BLACK/YELLOW
Size: 600MM

Deli Tools – Tile Cutter
Brand: Deli Tools
Model: DL354060
Color: Black/Yellow
Material: Steel
Blade Type: Diamond blade
Max. Cutting Length: 600mm (24-inch)
Max. Cutting Thickness: 12mm (0.5-inch)
Dimension (W x D x H): 72 x 16.5 x 9.5cm (28.3" x 6.5" x 3.7")
Features:
Tile Cutter is used for cutting Tile, granite, sandstone and many other stones.
It has an ergonomic handle that makes it easy to hold and operate for long hours without getting tired.
It makes use of a diamond blade to cut through the stone without damaging its surface or creating any dust.
It comes with guide lines for you to mark the right size of the stone and then just follow the lines and cut it out.
Click here for User Manual
We Also Recommend