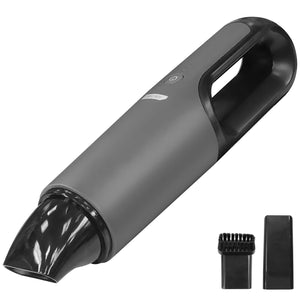 Vacuum Cleaner
SKU:
47040
HANDHELD (70W)
Model no: DL97984
Brand: DELI TOOLS
ALU: 6971092847436
Color: BLACK
Deli Tools – Vacuum Cleaner
Handheld Wireless Vacuum Cleaner
Brand: Deli Tools
Model: DL97984
Color: Black
Dust Box Capacity: 100ml
Battery Capacity: 2200mAh
Maximum Suction: >3500 (Max. 4000Pa)
Rated Power: 70W
Rated Voltage: 7.2V
Input Voltage: 5V
Input Current: 2A
Dimension (Dia. x W): Ø7 x 30cm (Ø2.8" x 11.8")
Features:
Touch Press Key.
Efficient Cleaning.
Wet and Dry Vacuum Cleaner Function.
Washable HEAP Filter, can be used multiple times.
4000Pa, a Strong suction force, it cleans and leaves no dust.
Accessories Includes: Brush Nozzle (x1), Straight Nozzle (x1), Charging Cable (x1) and Manual (x1).
Warranty: 6 Months Warranty
Click here for Instruction Manual
We Also Recommend