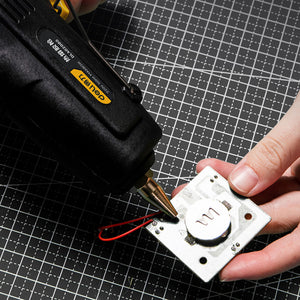 Glue Gun
SKU:
48180
HOT MELT (80W) 
Model no: DL402080
Brand: DELI TOOLS
ALU: 6973107480928
Color: BLACK
Deli Tools – Glue Gun
Hot Melt
Brand: Deli
Model: DL402080
Color: Black
Rated Power: 80W
Cord Length: 1.5m
Glue Stick Diameter: Ø 11mm
Material: ABS Plastic
Product Size: 18.8 x 15.8cm
Features:
Drip-proof design
Durable and anti-rust.
3C certification safety line, safe and reliable.
Ceramic heating chip, constant temperature sol.
Smooth dispensing, uniform dispensing, stable sol.
Anti-dumping bracket design, safe and convenient.
Independent switch design, energy saving and power saving.
Use high quality copper material to create quality copper nozzle, and the glue is smooth and continuous.
Ideal for rapid home repairs, holiday decorations, unique gift packaging, creative arts, DIY projects, handmade crafts, etc.
The glue gun features plus temperature coefficient (PTC) heating components to prevent overheating, safety power switch, ergonomic grip makes high temperature glue gun safe, comfortable and easy to use.
We Also Recommend