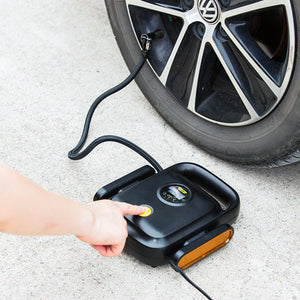 Air Compressor Pump
SKU:
46911
SINGLE CYLINDER 
Model no: DL8065
Brand: DELI TOOLS
ALU: 6971092845111
Color: BLACK

Deli Tools – Air Compressor Pump
Car Inflator Pump
Brand: Deli Tools
Model: DL8065
Color: Black
Power Cord Length: 3 meter
Rated Power: 100W
Input Current: ≤13A
Input Voltage: DC-12V
Noise: Below 85dB
Certification: CE/FCC
Dimension (W x D x H): 20.5 x 21.9 x 7cm (8.1" x 8.6" x 2.8")
Net Weight: 0.89kg
Gross Weight: 1kg
Features:
Digital LED Display: Digital led display screen provides you with accurate pressure value.
Compact and Easy-to-storage: Compact size with special storage design, really convenient to carry and use.
Portable Air Compressor Pump: A must-have for every car owner. Keep the compact air compressor in your car to inflate the tires, enjoy a safety driving.
Useful safety lights: Built with Night Reflector light, safety warning light for roadside emergencies, in addition to Bright Light for easy operation in the dark.
Multiple Air Nozzle: It comes with 3 different air nozzles, not only for car tire, also suitable for bike, motorcycle, balls, swimming wings and other inflatables.
Warranty: 6 Months Warranty
Click here for Instruction Manual
We Also Recommend