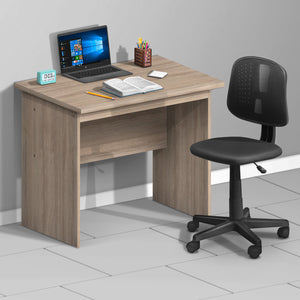 Study Desk with Chair (2 PCs)
SKU:
53220
TABLE + CHAIR 
Model no: FG-04
Brand: F-GOLD/ANJI
ALU: 54250
Color: WHITE/BLACK
Bundle Includes:
#53215 - Standard Table - x1
Brand: F-Gold
Model: 875-60
Color: Brown (160)
Material: Wood
Dimension (W x D x H):
Centimeter (cm): 90 x 60 x 75cm
Inch ("): 35.4" x 23.6" x 29.5"
Feet (') Inch ("): 2'11" x 2' x 2'6"
#53216 - Low Back Chair - x1
Armless
Brand: Anji
Model: W-134
Color: Black
Material (Backrest & Seat): Mesh
Material (Base): Nylon
Features:
360° Swivel.
Armless chair.
Comfortable Seating & Backrest.
Seat adjustable height from 15.7" to 20.5", down and up to a comfortable position.
Work in style at the office or at home with this ergonomically-designed, low-back-office chair.
Comfortable mesh chair with Mesh Seat and back-rest to provide support and to prevent body heat and moisture build up.
Dimension:
Overall Height: 80 – 92cm (31.5" – 36.2")
Seat Width: 45cm (17.7")
Seat Depth: 42cm (16.5")
Seat Height: 40 – 52cm (15.7" – 20.5")
Back-rest Width: 38.5cm (15.2")
Back-rest Height: 42.5cm (16.7")
We Also Recommend