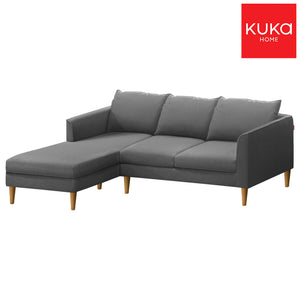 Sofa (Left-Side)
SKU:
52243
LARGE CORNER SOFA
Model no: KF-2137-KC-606-CL(LAF)+2(RAF)
Brand: KUKA HOME
ALU: 23930
Color: DARK GREY
Kuka Home – Sofa
Corner Sofa
Brand: Kuka Home
Model: KF-2137-KC-606-CL(LAF)+2(RAF)
Color: Dark Grey
Side: Chaise Left Side (Left-handed when standing in front of the Sofa)
Material: Fabric
Features:
This L-Shaped Sofa allows only to be setup on the left configuration. 
Only Backrest Cushions are removable.
Dimension:
Width x Depth x Height
Overall:
Centimeter (cm): W 231 x D 147 x H 86cm
Inch ("): W 90.9" x D 57.9" x H 33.9"
Feet (ft.): W 7'7" x H 4'10" x H 2'10"
Seat: W 204 x D 52 x H 42cm
Backrest Height: 50cm
Height under Sofa: 13.5cm
We Also Recommend