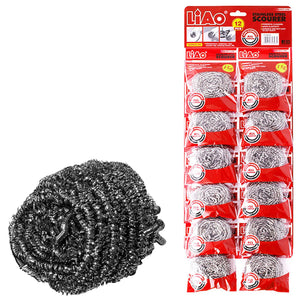 Scourer (12 PCs)
SKU:
53188
STAINLESS STEEL 
Model: H130024-1
Brand: LIAO
ALU: 6959125703980
Size: 15G
Color: SILVER
Liao –Scourer
12 Pieces
Brand: Liao
Model: H130024
Color: Silver
Weight: 15g
Material: Stainless Steel
Features:
Powerful cleaning.
Good Elasticity.
Made of durable stainless steel that does not rust.
Scours away grease, grime and baked on foods.
Features a mesh design that in soap but rinses clean easily.
Works great on: Kitchenware, cookware, sink, countertop, cooking bench etc...
We Also Recommend