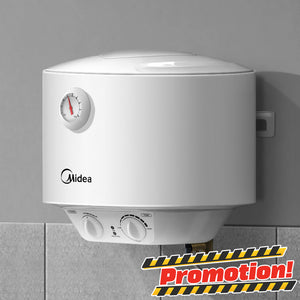 Water Heater (10L)
SKU:
42990
STORAGE METAL BODY
Model no: D10-15FL
Brand: MIDEA
ALU: 9788
Size: 10L
Color: WHITE
INSTALLATION:
Please Select the Required Option under "Frequently Bought Together"

Storage Water Heater Installation - MVR 769

Midea – Water Heater with Metal Body
10L Sealed Storage Electric Water Heater
Brand: Midea
Model: D10-15FL
Volume: 10 Liter
Installation Method: Vertical & Wall Hang
Rated Power: 1500W
Rated Voltage: 220-240V~
Rated Frequency: 50/60Hz
Rated Pressure: 0.75MPa
Water Temperature (max.): 75°C
Waterproof Grade: IPX4
Protection Class: Class I
Warranty: 12 Months Warranty
Advantages:
Earthing protection.
Enamel coated tank.
Dry heat protection.
Overheat protection.
Water-proof grade IPX4.
Over pressure protection.
Energy efficiency enhancer.
Longer life time magnesium rod.
Max working pressure (0.75MPa).
Dimension & Weight:
Product Dimension (Dia. x H): 34 x 30cm (13.4" x 11.8")
Packing Dimension (W x D x H): 40.5 x 37 x 33.5cm (15.9" x 14.6" x 13.2")
Gross Weight: 9.55kg
Packing Contents:
Water Heater (10L) – x1
Safety valve – x1
L-Shaped hook screws – x2
Screw plugs – x2
User Manual – x1
Click here for User Manual
We Also Recommend