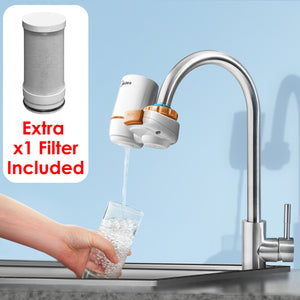 Water Purifier (for faucet)
SKU:
44481
CARBON FIBER WATER PURIFIER
Model: MC122-2
Brand: MIDEA
ALU: 20747
Color: WHITE
*Note: This Water Purifier will be Discontinued Once Stock is Finished.
Midea – Water Purifier with Replacement Filter
Bundle Includes:
#43177 - Water Purifier - x1
Brand: Midea
Model: MC122-2
Color: White
Material: Plastic
Purified water flow: 2L/min
Rated total purified water: 1200L
Applicable water quality: Municipal tap water
Working Pressure: 0.1 ~ 0.4MPa
Operating Temperature: 4 - 38 °C
Packing Size: 20.5 x 18 x 7.2cm
Gross Weight: 460g
Packing Contents:
Water Purifier – X1
Filter Cartridge – X1
Universal Connector – X1
Adapters – X6
Accessory kit – X1
Teflon tape – X1
User Manual – X1
Features:
Long service life.
Carbon fiber filtration.
Quintuple refined filtration.
Carbon fiber bacteriostatic activity.
High flow purified water: 2L/min high speed initial flow rate allows you to get a lot of clean water instantly.
Quick connection type adapter: The adapter can be easily mounted on majority of threaded faucets.
Quick connection type filter: Bayonet type installation, ensuring quick, simple and safe replacement of filter.
Patented quick release filter system: The filter cartridge can be removed separately, which is convenient to replace the filter.
Carbon fiber filter material: Efficient filtration of impurities in water, heterchrome odor and residual chlorine.
Two-level water button: Two water outlet modes, purified water and raw water, more convenient to use water.
#43182 - Water Filter - x1
Carbon Fiber Filter
Lifespan expectancy: 6 – 12 months
Purpose: Efficient filtration of impurities in water, heterochrome, odor and residual chlorine.
Click here for User Manual
Click here for Replacement Water Filter (Sold Separately)
We Also Recommend