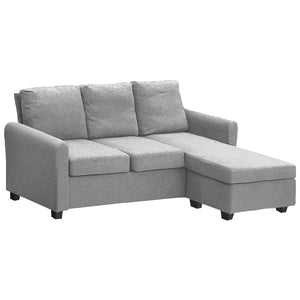 Sofa
SKU:
43867
REVERSIBLE CORNER 
Model no: MLM-111720
Brand: MLM
ALU: 20421
Color: LIGHT GREY
MLM - Sofa
Reversible Corner Sofa
Brand: MLM
Model: 111720
Color: Light Grey
Shape: L-Shape
Material: Fabric (BM-12)
Features:
Backrest and Seat Cushions are removable.
Convertible Design: Sectional sofa with reversible chaise lounge. You can place the ottoman on either side of the sofa.
Dimensions:
Width x Depth x Height
Overall:
Centimeter (cm): W 188 x D 145 x H 84cm
Inch ("): W 74" x D 57.1" x H 33.1"
Feet (') Inch ("): W 6'2" x D 4'9" x H 2'9"
Seat: W 160 x D 112 x H 46cm
Backrest Height: 45cm
Height under Furniture: 9cm
We Also Recommend