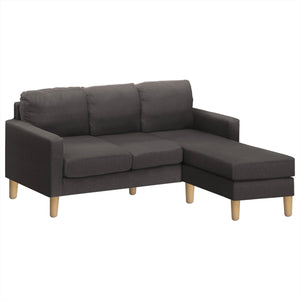 Sofa
SKU:
43865
REVERSIBLE CORNER 
Model no: MLM-111452
Brand: MLM
ALU: 20419
Color: DARK BROWN
MLM – Sofa
Reversible Corner Sofa
Brand: MLM
Model: 111452
Color: Dark Brown
Material: Fabric (BM-22)
Features:
Backrest and Seat Cushions are removable.
Convertible Design: Sectional sofa with reversible chaise lounge. You can place the ottoman on either side of the sofa.
Dimension:
Width x Depth x Height
Overall:
Centimeter (cm): W 196 x D 139 x H 83cm
Inch ("): W 77.2" x D 54.7" x H 32.7"
Feet (') Inch ("): W 6'5" x H 4'7" x H 2'9"
Seat: W 176 x D 51 x H 47cm
Backrest Height: 40cm
Height under Sofa: 18cm
We Also Recommend