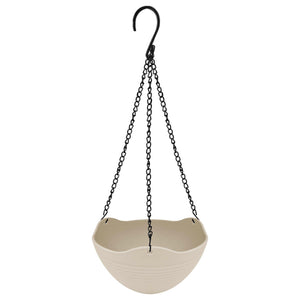 Plant Pot (Ø21 x 13cm)
SKU:
45122
PLASTIC 
Model no: HL-0263
Brand: MR HUOLANG
ALU: 6957090002633
Size: 21X13CM
Color: ASST
Mr. Huolang – Hanging Plant Pot
Brand: Mr. Huolang
Model: HL-0263
Color: Assorted Color
Material: Plastic
Dimension (Dia. x H): 21 x 13CM (8.3" x 5.1")
Features:
Sturdy Hanger: Iron with black finish chain-hanger and hook withstands the elements while providing secure support.
Water Seepage: The remaining water can seeped into the storage area below the mesh and be stored for plant absorption.
Anti-Overflow plug:

For outdoor: Use after removing the anti-overflow plug. In this way, the overflow of rainwater from the storage area can be drained automatically to prevent the roots from decaying.
For indoor: Use after installing the anti-overflow plug. This will nether leak nor need the flowerpot tray, it can prevents pollution of the indoor environment.
We Also Recommend