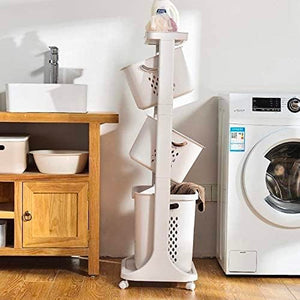 Storage Rack
SKU:
53316
PLASTIC 
Model no: HL-9749
Brand: MR. HUOLANG
ALU: 6957090097493
Color: WHITE
Mr. Huolang – Storage Rack
3-Layer Laundry Basket
Brand: Mr. Huolang
Model: HL-9749
Color: White
Material: Plastic
Dimension (W x D x H): 44 x 33 x 108.5cm (17.3" x 13" x 42.7")
Features:
Removable laundry basket.
2 Baskets can be tilted to make it more convenient to pick up and place items.
This three-layer storage rack is multi-purpose and can store children's clothes, underwear, underwear, outer clothes, sheets, quilts, etc. separately.
The bottom is equipped with four pulleys that can rotate 360°, which can be moved anytime and anywhere, easy to operate, easy to push and pull, saving time and worry.
We Also Recommend