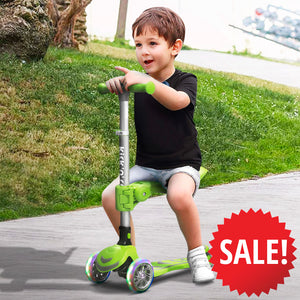 Kick Scooter (2-in-1)
SKU:
49928
FOLDABLE 
Model no: S6-T
Brand: KICK'N'ROLL 
ALU: 3243149
Color: GREEN
Kick'n'Roll – Kick Scooter
Kick'n'roll Scooter
Brand: Kick'n'Roll
Model: S6-T
Color: Green
Suitable for Kids: 3+
Seat Load Bearing Weight: 20kg
Deck Load Bearing Weight: 50kg
Material: Plastic
Dimension (W x D x H): 24 x 59 x 65.5 – 81cm (9.4" x 23.2" x 25.8" – 31.9")
Features:
Foldable, easy carry.
Soft and anti-slip handgrip.
Double rear PU light-up wheels.
4-height adjustment grow with child.
Wide, anti-slip desk design in dual color.
Advanced steering, smooth and flexible.
One step assembly. Safe integrated folding system with a push button to easily fold and store.
120mm PU casting battery-free LED light-up wheels flash in red, green, and blue, thanks to dynamo lighting integrated in the wheels' core.
Cover the rear brake to provide better braking performance while maintaining rear wheel integrity.
We Also Recommend