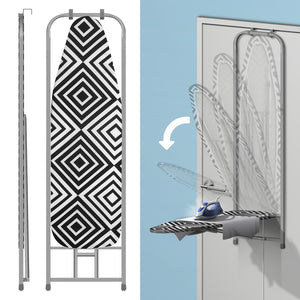 Ironing Board (33 x 110cm)
SKU:
53203
OVER-THE-DOOR HANGING 
Model no: UBS15027
Brand: PERILLA
ALU:  8691913150276
Color: ASST
Perilla – Ironing Board
Over-Door Ironing Board
Brand: Perilla
Model: UBS15027
Color: Assorted Color
Board Size: 33 x 110cm (13" x 43.3")
Material: Metal + Cotton
Hanging fit door thickness: 40mm
Frame Thickness: 20mm
Frame Size (W x H): 38 x 133cm (15" x 52.4")
Features:
Removable Cover.
Sturdy metal frame.
Mesh steam permeable.
Hanging brackets included.
Smoothly folds up and down and safely locks when upright.
Space-saving ironing board, easily hands over any standard door.
Convenient addition to your laundry room, bedroom, or living area.
We Also Recommend