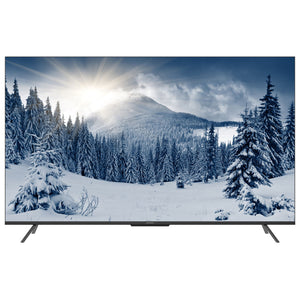 TV (4K UHD) - 70"
SKU:
50758
GOOGLE TV 
Model no: 70SUE9350F
Brand: SKYWORTH
ALU: 23458
Size: 70INCH

DELIVERY AND INSTALLATION:
TV Delivery & Testing
Due to the Large Size, Delivery will only happen after a site survey. Charges will be applied based on the "Difficulty-Level" of delivery. TV will be tested and checked for physical damage at the location where it will be handed over to the customer.
---
---
Specification
---
Skyworth – 70" 4k Google TV
Brief Information:
Brand: Skyworth
Model: 70SUE9350F
Operation System: Google TV
Configuration:
CPU:  A53 x 4 – 1.5GHz
GPU: Mali-G52
DDR: 2GB
Flash: 16GB
Warranty: 1 Year Warranty
Display:
Screen Size: 70 inch
Resolution: 3840 x 2160
Product Category: DLED & Frameless
Backlight Type: Direct
Direct distance: OD38
Viewing Angle: 178°/178°
Response Time: 8ms (Gray to gray)
Contrast Ratio (Typ.): 4000
Set Brightness (nit) (Typ.): 250
Color gamut: 28% (Typ.)(CIE1976)
Full Screen: Yes
Refresh frequency: 50/60Hz
Picture Enhancement:
Audio: 
Audio Enhancement:
Surround
DTS Studio Sound
Dolby Digital (Decoder)
Dolby Digital plus (Decoder)
Audio Output Power (RMS): 2 x 10W
Main Speaker Direction: Bottom
Speaker Number: 2
AC Power:
AC Input Range: 100-240V
AC Cable Length: 1.5M
Power Consumption: TBD
Passive Standby Power Consumption: <0.5W
Active Standby Power Consumption: <2W
Features:
AI:
Google Assistant built-in
Work with Google Assistant
Far Field:
Google Far Field Voice Control
Content:
Netflix
Prime video
YouTube
YouTube HDR
Open Browser
Coocaa Service
App Store/Content store: Google Store
Chromecast: Yes
Wi-Fi:
Working Frequency: 2.4G + 5G
Wi-Fi solution: 7663BU
Wake on LAN/Wake on WLAN: Yes
Wi-Fi Support type: 2T2R
Bluetooth:
Version: 5.0
Audio transmission: Input/Output
TV Receiving System:
ATV Receiving:
PAL-BG/I/DK SECAM-BG/DK NTSC-M
NICAM
A2
DTV Receiving:
Displaying Text:
Decoder:
Video: VP8, VP9, VC1, AV1, H.263, H.264, HEVC/H.265, MPEG1/2, MPEG4
Audio: MPEG1/2 Layer1, MPEG1/2 Layer2, MPEG1/2/2.5 Layer3, AC3(DD), EAC3(DD+), HEAAC, AC4
Photo: JPEG, PNG, BMP
HDMI:
CEC (Consumer Electronics Control)
ARC (Audio Return Channel)
Language: English, العربية, Русский, Deutsch, Français, Español, Español (Argentina), Português, Português (Brazil, ไทย, Tiếng Việt,繁体中文,简体中文, فارسی‎,Burmese, עִבְרִית, Kiswahili, Indonesia, Melayu, தமிழ், Монгол, Українська, አማርኛ,Српски, Românâ, Български, Magyar, Hrvatski, Македонски, Slovenscina, Albanian language, Italiano, Nederlands, Dansk, Norsk, Suomen kieli, Svenska, Eesti keel‎, latviešu valoda, Slovenčina, lietuvių kalba, Česky, Polski, Ελληνικ, Türkçe, Kazakh, Georgian, Ўзбек тили‎,
Teletext Language: West/East/Russian/Arabic/Farsi
Others:
Parent Control(Child Lock)
EPG
Channel list
Favorite Channel List
Channel Editor
AD(Audio Description)
Fast boot
Hotel mode
Software Update:
Update Software By Internet
Terminal (Ports):
USB 2.0 – X2

Antenna Input – X1
HDMI  – X3
AV Input – X1
LAN – X1
Digital Audio Output (Optical) – X1
Dimensions & Weight:
Size (with stand) (mm): 1551.2 x 271.8 x 975.4mm
Size (without stand) (mm): 1551.2 x 83.2 x 907.8mm
Package Size (with stand) (mm): 1680 x 203 x 1060mm
Weight (with stand): 21.8kg
Weight (without stand): 21.5kg
Gross Weight (Kg): 28.8kg
We Also Recommend