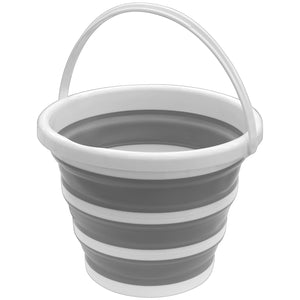 Bucket (10L)
SKU:
46248
COLLAPSIBLE
Model no: BL0668
Brand: UBL
ALU: 9333527464781
Size: 10L
Color: ASST

UBL - Bucket
Collapsible Bucket with Handle
Brand: UBL
Model: BL0668
Capacity: 10 Liter (2.6 Gallons)
Color: Assorted Color
Shape: Round
Material: Plastic
Dimension (Dia. x H): 31.5 x 24cm (12.4" x 9.4")
Features:
Holds up to 2.65gallons / 10 liters.
Compact: Push down on bucket to make it smaller than when it's fully expanded!
Perfect for watering plants, washing vehicles, taking with you when fishing, or anything else imaginable!
Carrying handle allows you to easily grab the bucket when needed. When emptied, bucket becomes compact and folds into itself which makes it easy to store.
We Also Recommend