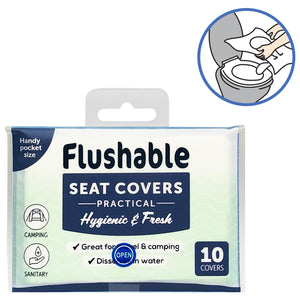 Toilet Seat Cover (10 PCs)
SKU:
49111
FLUSHABLE, DISPOSABLE 
Model no: RG0295
Brand: UBL
ALU: 9333527620521

UBL – Toilet Seat Cover
Flushable Toilet Seat Covers (10 Pieces)
Brand: UBL
Model: RG0295
Features:
Sanitary.
Camping.
Hygienic.
Eco-friendly.
Travel Size.
Disposable.
They are also great for travelling.
No more sitting on unsanitary public toilets.
Protect yourself from germs whenever you need to GO!
Take them on vacations, airplanes or use them at outdoor events.
Flushable seat coves can be used absolutely anywhere, the office, the gym, restrooms or restaurants.
We Also Recommend