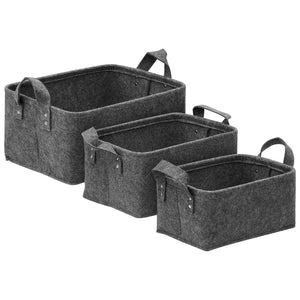 Storage Basket (3 PCs)
SKU:
49103
FELT 
Model no: US2572
Brand: UBL
ALU: 9333527593368
Color: ASST
UBL – Storage Basket
Felt Basket (3 Pieces)
Brand: UBL
Model: US2572
Color: Assorted Color
Material: Felt
Dimension (W x D x H):
Large: 40 x 30 x 20cm (15.7" x 11.8" x 7.9")
Medium: 36 x 26 x 18cm (14.2" x 10.2" x 7.1")
Small: 32 x 22 x 16cm (12.6" x 8.7" x 6.3")
Features:
Storage Basket is made of felt, soft yet sturdy enough to stand up on their own.
Practical felt storage baskets, with the handle on both side, easy to move and take away.
This storage container is perfect for clothes, pillows blankets or Cushions, can hold toys, games, magazines, DVDs, keepsakes and more.
We Also Recommend