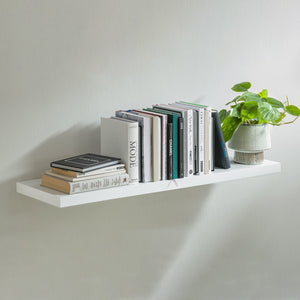 Wall Shelf
SKU:
46577
LAMINATED FINISH
Model no: UH2734
Brand: UBL
ALU: 9333527383075
Color: ASSORTED COLOR
UBL - Wall Shelf
Floating Shelf (Laminated Finish)
Brand: UBL
Model: UH2734
Color: Assorted Color
Installation Type: Wall Mount
Material: Plastic
Features:
Laminated Finish.
Can be easily mounted on the wall.
It provide space saving solution for your home or office.
This shelf was designed to bring a style to any room in your home.
Use in the kitchen, bar, bedroom, office, hallway, entryway - or anywhere that you need a storage or display solution.
Dimension:
Width x Depth x Height
Centimeter (cm):
W 80 x D 24 x H 3.8 cm
Inch ("):
W 31.5" x D 9.4" x H 1.5"
Feet (') Inch ("):
W 2'8" x D 0'9" x H 0'2"
We Also Recommend