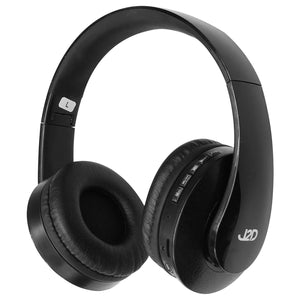 Headset
SKU:
47535
BLUETOOTH WITH SD SLOT
Model no: EA1356
Brand: UBL
ALU: 9333527516831
Color: BLACK
UBL – Headset
Bluetooth Headphone

Brand: UBL
Model: EA1356
Color: Black
Features:
Built-in FM radio.
Listen music wirelessly.
Built-in Micro SD card slot.
Built-in rechargeable battery.
Bluetooth Stereo Headphone.
Foldable and comfortable adjustable design.
Buil-in Bluetooth connects to any bluetooth enabled devices.
Built-in mic allows you take phone calls whilst enjoying music.
Includes: USB Charging Cable (x1), 3.5mm Auxiliary Cable (x1).
Built-in Aux jack - great to continue listening to music even after battery has run out.
We Also Recommend