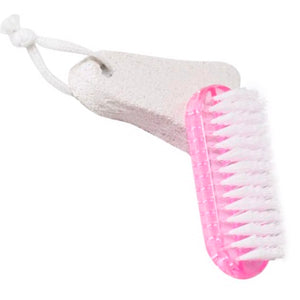 Nail Brush
SKU:
46394
WITH PUMICE STONE
Model no: AG0027
Brand: UBL
ALU: 9333527002785
Color: PINK
UBL – Nail Brush
Pumice Stone & Nail Brush Set (2 Pieces)
Brand: UBL
Model: AG0027
Color: Assorted Color
Material: Stone & Plastic
Dimension (Brush): 4 x 9.5 x 2.8cm
Dimension (Pumice Stone): 4 x 10.6 x 2cm
Features:
Non-stick design, sleek.
Made of natural stone, and high quality plastic.
Package includes 1 brush and 1 pumice stone, with a handle size.
You will hold comfortably, and the rope is hanging for you to easily store when not in use, saving bathroom space.
We Also Recommend