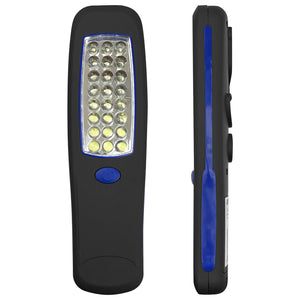 LED Light
SKU:
49022
WORK LIGHT WITH HOOK 
Model no: LC0265
Brand: UBL
ALU: 9333527280336

UBL – LED Light
Work LED Light with Hook
Brand: UBL
Model: LC0265
Color: Assorted Color
Material: Plastic
Dimension (W x D x H): 6 x 3 x 21cm (2.4" x 1.2" x 8.3")
Features:
Extra Bright, 24 White LEDs.
A flashlight with a compact, cell phone-like design with a light body made of durable plastic.
Equipped with a convenient hanger, you can fix the light in one place, easy to find during use.
Flashlight is an essential product for everyone, every home, when it comes to lighting, finding things, power outages or in emergencies
24 LED lights on the body, contributing to high brightness without consuming much energy, making it possible for you to use for a long time.
We Also Recommend