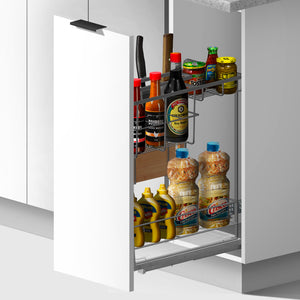 Pull-Out Cabinet Organiser
SKU:
49875
METAL RACK 
Model no: B300
Brand: ZBOM
ALU: 23207
Color: GREY

Zbom – Cabinet Organizer
Pull-out Seasoning Basket
Brand: Zbom
Model: B300
Color: Grey
Surface Finish: Powder Coated
Open Method: Pull-out
Runner: Soft Close Runner
Material: Iron and Melamine Panel
Applicable Cabinet Size:
Width: 300mm
Depth: 530/580mm
Height: 650/715/780mm
Product Dimension (Without Sliding Rail) (W x D x H): 23.5 x 47 x 45cm (9.3" x 18.5" x 17.7")
Features:
Installation kits are included.
Plastic Tray, Cutlery Holder & Knife Holder Included.
This pull out cabinet organizer is designed with a soft close runner glide system that can withstand the weight load and still deliver a smooth glide every time.
Sturdy Organizer for Cabinets: If you have limited space in your kitchen to store your spices, cutlery, cutting board, knives or are tired of not being able to find anything in a clutter of jars and bottles, this sliding organizer is the perfect solution for you to finally organize your kitchen.
We Also Recommend