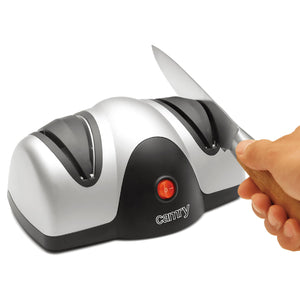 Electric Knife Sharpener (2-in-1)
SKU:
50566
60W 
Model no: CR4469
Brand: CAMRY
ALU: 5908256837607
Color: BLACK/SILVER

Camry – Knife Sharpener
2-in-1
Brand: Camry
Model: CR4469
Color: Black/Silver
Rated Power: 40W (max. 60W)
Rated Voltage: 230V
Rated Frequency: 50Hz
Material: Plastic + Steel
Features:
Easy to clean.
Quick and easy sharpening.
Strong non-slip suction feet.
Optimal sharpening angle guides.
Razor sharp knife just in seconds.
2-stage system sharpens then hones blades.
Practical knife sharpener, for sharpening and polishing knives.
We Also Recommend