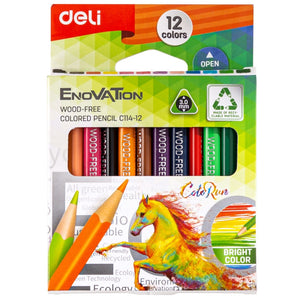 Color Pencil Set (12 PCs)
SKU:
48131
12 COLORS ENOVATION 
Model no: C114-12
Brand: DELI
ALU: 6921734934024
Color: ASST
Deli – Color Pencil Set
12 Colored Pencils Enovation
Brand: Deli
Model: C114-12
Color: Assorted Color
Tube Design: Triangular
Number of Colors: 12 Colors
Features:
Wood-free.
High-quality.
Easy to sharpen.
Ergonomic Holding.
12 color emotions with bright colors.
3.0mm lead for smooth coloring performance.
We Also Recommend