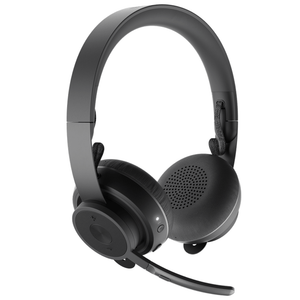 Headset
SKU:
49349
ZONE WIRELESS PLUS BLUETOOTH HEADSET 
Model no: 981-000808
Brand: LOGITECH
ALU: 97855148261
Color: BLACK
---
---
Specification
---
Logitech - Headset
Bluetooth Headset (Zone Wireless Plus)
Brand: Logitech
Model: 981-000808
Color: Black
System Requirements:
Works with common calling applications across almost all platforms and operating systems.
Works with Windows, Mac, or Chrome™ based computer via USB-C, USB-A, Bluetooth and iOS or Android Bluetooth enabled devices.
Technical specifications:
Microphone
Type: Omni-directional dual MEMS mic array
Frequency response: 85 ~ 20KHz @-3dB (ECM mic freq resp)
Speakers
Frequency response (music mode): 30 ~ 13KHz @ -10dB
Frequency response (talk mode): 100 ~ 8KHz per TIA920
Audio compliance: Compliant to EN 50332
Battery
Built-in battery (Lithium ion)
Battery life (talk time): 14 Hrs (ANC on), 15 hrs (ANC Off)
Battery life (listening time): 14 Hrs (ANC on), 16 hrs (ANC Off)
Charging
Qi Wireless charging enabled (not included)
USB-A to C charging cable: 130 cm 
Wireless
Bluetooth version: 5.0
Wireless range: Up to 30 m (open field line of sight)
Dimensions:
Headset
Height x Width x Depth: 174.7 x 176.7 x 70.7mm
Weight: .1808kg
Ear pad
Height x Width x Depth: 70.7 x 70.7 x 16.4mm
Zone Wireless Plus Receiver
Height x Width x Depth: 35.5 x 16.2 x 5.3mm
Zone Wireless Plus USB-C adapter
Height x Width x Depth: 106.7 x 17.5 x 10.1mm
* The adaptor is only compatible with Logitech Zone Wireless Plus Receiver.
Package contents:
Wireless headset
USB-A receiver
USB-C adapter Charging cable
Travel Bag
User documentation
Part number: Zone Wireless Plus: 981-000808
We Also Recommend