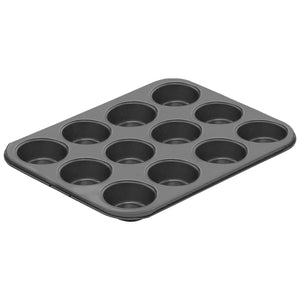 Baking Pan
SKU:
46571
NON-STICK
Model no: KC0020
Brand: UBL
ALU: 9333527021694
Color: DARK GREY

UBL – Baking Pan
Non-Stick Muffin Pan (12 Cups)
Brand: UBL
Model: KC0020
Color: Dark Grey
Material: Steel
Dimension (W x D x H): 35 x 26.5 x 3cm (13.8" x 10.4" x 1.2")
Features:
Easy bake non-stick coating.

Oven and dishwasher safe.
Simple to clean with hot soapy water.
Withstands temperatures from -30 degrees up to 230 degrees.
Muffin baking mold is made from good non-stick carbon steel and is very durable, helping you to make delicious and beautiful batches.
We Also Recommend