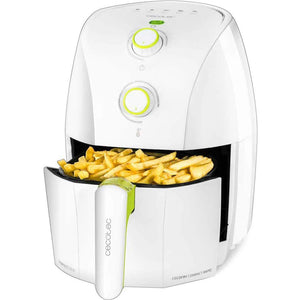 Air Fryer (1.5L)
SKU:
52126
CECOFRY 900 WHITE 
Model no: 4323
Brand: CECOTEC
ALU: 8435484043236
Color: WHITE
Size: 1.5L
Cecotec – Air Fryer
Cecofry 900 White
Brand: Cecotec
Model: 4323
Color: White
Capacity: 1.5 Liter
Rated Power: 900W
Timer: up to 30 Minutes
Temperature Range: up to 200°C
Warranty: 12 Months Warranty
Features:
Adjustable time 0-30 min.
1.5 liter capacity container.
It has a thermostat up to 200º.
Programmable in time and temperature.
Cook up to 400 grams of potatoes in one go.
Exceptional results in all recipes thanks to PerfectCook hot air technology.
It has an oven function thanks to the basket that it includes as an accessory.
Dietary fryer that allows cooking with a single tablespoon of oil, achieving healthier results.
We Also Recommend