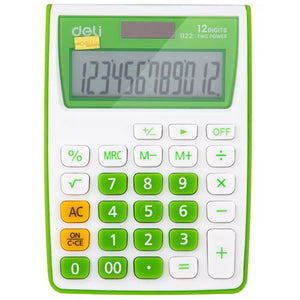 Desk Calculator
SKU:
48135
12 DIGITS 
Model no: 1122
Brand: DELI
ALU: 6935205368355
Color: GREEN

Deli - Desk Calculator
12-Digits
Brand: Deli
Model: No: 1122
Color: Green
Dimension (W x D x H): 8.6 x 11.9 x 2.9cm
Features:
Dual Power.
Auto power off
Rubber Button.
Anti-slip foot pad.
Lightweight and easy to carry.
Rubber buttons, with distinct bumps and convexities, feel comfortable.
The 12-digit display value is clear and clear, which improves efficiency.
We Also Recommend