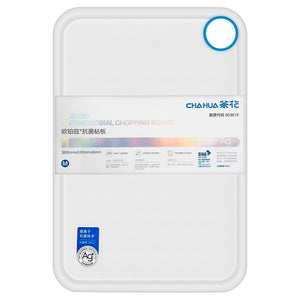 Cutting Board (24 x 36cm)
SKU:
50780
PLASTIC
Model no: 24005
Brand: CHAHUA
ALU: 6921489045822
Color: WHITE
Size: 36X24CM
Chahua – Cutting Board
Antimicrobial Chopping Board
Brand: Chahua
Model: 24005
Color: White
Size: 36 x 24.5cm (14.2" x 9.6")
Thickness: 0.9cm
Material: PP + LDPE Plastic
Features:
Easy to clean, just water-wash.
Sandy finish keeps the board firmly in place.
Suspensible hole makes it hang on a hook perfectly.
Deep groove to catch liquids on the board keeps the countertop clean.
Ag+ additive helps to inhibit 99% of E.coli and S.aureus and keeps the bacteria away from your food.
We Also Recommend