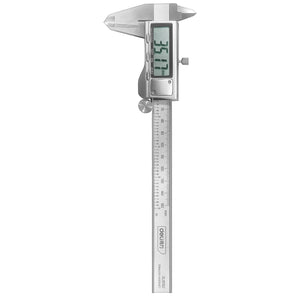 Caliper (150mm)
SKU:
50331
STAINLESS STEEL
Model no: DL91150
Brand: DELI TOOLS
ALU: 6973107487071
Color: SILVER
Size: 150MM

Deli Tools – Caliper
Digital Vernier Caliper
Brand: Deli Tools
Model: DL91150
Measuring Range: 0 - 150mm (0 – 6 inch)
Measurement Accuracy: ±0.03mm
Display: LCD Display
Division Value: 0.01mm
Power Supply: 1.55V button battery (capacity: 165mAh)
Material: Stainless Steel
Overall Dimension: 7.8 x 23.2cm (3.1" x 9.1")
Features:
LCD Display.
Easy Measurement.
With lock Function.
High-precision Vernier caliper.
Stable, reliable and easy to measure.
Wear resistant made of stainless steel.
Zeroing button enables measurement as desired.
Quench hardened measuring surface for wear resistance.
Small screw driver (x1), 1.55V button battery (x1) included.
Large LED display ensures fast measurement and clear reading.
The measuring position can be locked for the convenience of reading.
One-click start and stop, comes with metric-imperial conversion button.
Scope of Application: Inner Diameter, Outer Diameter, Depth and Step.
Notes:
The Product has sharp parts, please use with caution.
We Also Recommend