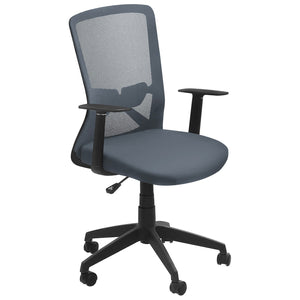 Medium Back Chair
SKU:
53420
MESH 
Model no: W-215A
Brand: ANJI
ALU: 58292
Color: GREY
Anji – Medium Back Chair
Brand: Anji
Model: W-215A
Color: Grey
Material (Seat and Back-rest): Mesh
Material (Base): Nylon
Features:
360-degree swivel.
Comfortable Seating & Backrest.
Seat adjustable height from 20.5" to 17.5", up and down to a comfortable position.
Work in style at the office or at home with this ergonomically-designed, medium-back office chair.
Comfortable Ergonomic mesh office chair with Mesh Seat and Back-rest to provide exceptional support and to prevent body heat and moisture build up.
Dimension:
Overall Height: 93.5 – 101cm (36.9" - 39.8")
Seat Width: 49cm (19.3")
Seat Depth: 49cm (19.3")
Seat Height: 43.5 – 52cm (17.1" - 20.5")
Back-rest Width: 49cm (19.3")
Back-rest Height: 54cm (21.3")
We Also Recommend