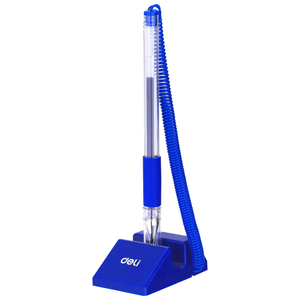 Ball Point Pen
SKU:
46026
COUNTER PEN
Model no: 6791
Brand: DELI
ALU: 6935205355294
Size: 0.5MM
Color: BLUE

Deli – Counter Pen
Brand: Deli
Model: 6791
Color: Blue
Material: Plastic
Bullet Tip: 0.5mm
Features:
Rubber Grip.
Permanent Adhesive Base to fix the pen on pointed place for easy use.
180° rotatable and spring design allows remote accessing to a certain extent.
Ideal for banks, retailers, office lobbies, hotel lobbies, and tuition offices etc...
We Also Recommend