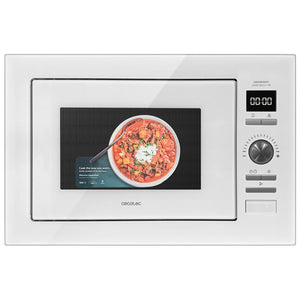 In-Built Microwave Oven (25L)
SKU:
50668
IN BUILT
Model no: 1394
Brand: CECOTEC
ALU: 8435484013949
Color: WHITE
Size: 25L
Cecotec – In-Built Microwave Oven
GrandHeat 2590 Built-in White
Brand: Cecotec
Model: 1394
Color: White
Capacity: 25 Liter
Timer: up to 95 min
Glass Tray Size (Dia.): Ø31.1cm
Rated Input Power (Grill): 1000W
Rated Input Power (Microwave): 1450W
Rated Output Power (Microwave): 900W
Microwave Frequency: 2450MHz
Rated Voltage: 230V~
Rated Frequency: 50Hz
Accessories Included:
Turntable – x1
Metal Grill – x1
Overall Dimension (W x D x H):
Centimeter (cm): 59.5 x 39.5 x 39cm
Inch ("): 23.4" x 15.6" x 15.4"
Warranty: 12 Month Warranty
Features:
Child lock for safe use.
Timer up to 95 minutes.
Turntable with 31.1 cm in diameter.
Built-in digital microwave with 25 L capacity.
Press a single button to open the door easily.
Control panel with buttons and rotary control.
Quick Start: quick start at full power for the set time.
Reheat your dishes by combining up to 2 different modes.
Interior with stainless steel coating that ensures easy cleaning.
Grill with 1000 W of power to achieve perfect cooking results quickly and easily.
An elegant design in white to fit perfectly into all kitchens and give them a modern and avant-garde touch.
Automatic start. Program it to start heating with a set program, at a set time.
It has 8 preset functions for you to cook all types of food: auto, reheat, vegetables, fish, meat, pasta, potatoes, pizza and soup.
900 W of power on 5 levels. Combine the functions of the microwave and the 3 of the grill with other functions so that you can use them later.
Defrosting mode that adapts to weight and time to allow food to be thawed quickly and evenly, while maintaining its original texture and freshness.
Click here for User Manual
We Also Recommend