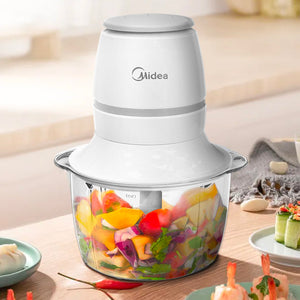 Food Chopper (1L)
SKU:
48081
400W 
Model no: MJ-FM4001W
Brand: MIDEA
ALU: 6971546341206
Color: WHITE
Size: 1L
Midea – Food Chopper
Quick & Easy Vegetable Chopping
Brand: Midea
Model: MJ-FM4001W
Capacity: 1 Liter
Color: White
Rated Power: 400W
Rated Voltage: 220-240V~
Rated Frequency: 50-60Hz
Material (Blade): Stainless Steel
Material (Bowl): Plastic
Dimension (W x D x H): 18 x 16 x 26cm (7.1" x 6.3" x 10.2")
Weight: 1.24kg
Warranty: 12 Months Warranty
Features:
Family size 1L detectable plastic bowl.
Super light plastic body with stainless steel blade.
Single ON/OFF Press button for easy control your chopping progress.
The Midea Chopper 3000 Series is a convenient and affordable tool for home-made sauce which is perfect to chop vegetable.
Featuring an AC motor with 400W, the detachable stainless steel blades and the 1 plastic mixing bowl, it delivers a perfect performance of chopping vegetables.
We Also Recommend