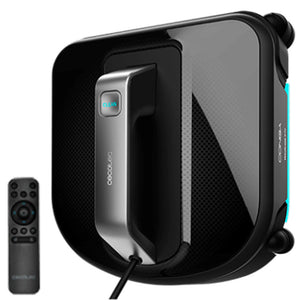 Vacuum Cleaner (Window Cleaner)
SKU:
48337
CONGA WINDROID 970 
Model no: 5461
Brand: CECOTEC
ALU: 8435484054614
Color: DARK GREY
Cecotec – Vacuum Cleaner
Silent cleaning.
Fast cleaning and powerful suction.
Includes specialized cleaning product.
Remote control, allows controlling the robot manually.
Useful handle with easy hand grip and ergonomic power button.
Eco-friendly: Mop cloths made of high-quality micro-fiber, reusable.
Square Design: Cleans edges and corners, perfect results and autonomy.
Auto Stop System: Automatically warns and stops after finishing cleaning.
Save Time: Cleans windows twice as fast. Reaches the most inaccessible corners.
Smart window cleaner robot with square design and vibrating mop: reaches every corner.
Integral safety system:

Vacuum control sensors.
Ultra-resistant safety rope with suction cup.
Anti-drip control algorithm: Detects obstacles and frames.
Un-Interrupted Power Supply, non-stop power system that prevents the robot from falling in case of power cut.

Cleans glass and smooth surfaces: Shower screens, tiles, windows, indoor and outdoor windows.
Loop Mode: The robot passes through the same spot 10 times for a thorough cleaning, removing 100 % of dirt.
5 Cleaning Modes: Includes 5 automatic cleaning modes to clean from any point: N, Z, Loop, Area and Manual.
Extra Power Suction: Powerful suction pump that keeps the robot adhered to the window or glass with maximum safety.
iTech Win Square: Smart navigation, calculates the ideal cleaning route, detects window edges and completely cleans all the surface.
Advance Clean 5: Cleans in 5 steps, damps, scrubs, wrings, cleans and dries. This technology helps performing professional results effortlessly.
Smart Mopping Vibrator: The top mop moves in a constant swaying motion, scrubbing dirt intensively. Cleans and removes the most difficult dirt.
Brand: Cecotec
Model: 5461
Color: Dark Grey
Rated Power: 90W
Rated Voltage: 100-240V
Rated Frequency: 50/60Hz
Charging Time: 1.5hr Approx.
Safety Rope: Yes
Supply Cord: Yes
Remote Control: Yes
Spare Mops: Yes
Vacuum Control Sensors: Yes
Smart Navigation: Yes
AutoStop System: Yes
5 Cleaning Modes: N, Z, Loop, Area and Manual
Cable Length: 3.73m
Dimension (W x D x H): 25 x 27 x 9cm (9.8" x 10.6" x 3.5")
Weight: 2.05kg
Warranty: 12 Months Warranty
We Also Recommend