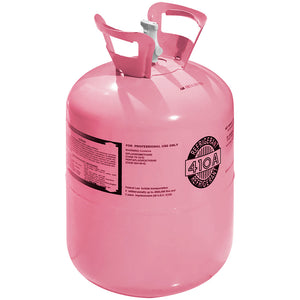 Refrigerant (410A)
SKU:
43932
NON-INFLAMMABLE GAS
Model no: R410
ALU: 20452
Refrigerant
Non-Inflammable Gas
Model: 410A
Unit: Steel Cylinder
Application: Refrigerant
Net Weight: 11.3kg (25 Pounds)
Details:
Non-refillable, disposable cylinder.
It is used in household, industrial and commercial air conditioning system.
Liquefied Gas (Contains Difluoromethane and Pentafluoroethane) UN 3163.
Difluoromethane 50% and 

Pentafluoroethane 50% (Cas# 75-10-5 and Cas# 354-33-6).
We Also Recommend